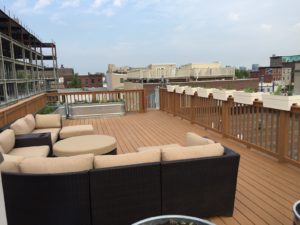 Cumming Construction has built some of the most stunning decks, roof decks, patios and walkways in Philadelphia and its suburbs.
As a result of using permeable pavers, such as EP Henry or Belgard, water seeps through the pavers and flows into the soil instead of running off into sewers. This eco-friendly alternative to heat-producing, solid concrete surfaces can also be a more attractive option when designing patios, walkways or driveways.
And while we have built plenty of wooden decks out of pressure-treated pine, red cedar, mahogany and other hardwoods, we are excited about the environmental benefits and the minimal maintenance demanded by composite decking.

These products, such as MoistureShield Composite Decking, TimberTech and Trex, are created from up to 90% pre-and-post-consumer recycled material and require no sealing, staining or painting and will not rot or warp from water or sunlight. For example, MoistureShield Decking contains an average of 289 plastic grocery sacks or 92 plastic water jugs per 12-foot board.