Rooftop decks in the Philadelphia area is one of Cumming Construction's specialties. Our rooftop deck designs cover a wide range of styles and can include gazebo and pergola construction. We have experience in building a variety of rooftop decks in the Philadelphia area including the surrounding counties of Pennsylvania, including Montgomery and Delaware Counties.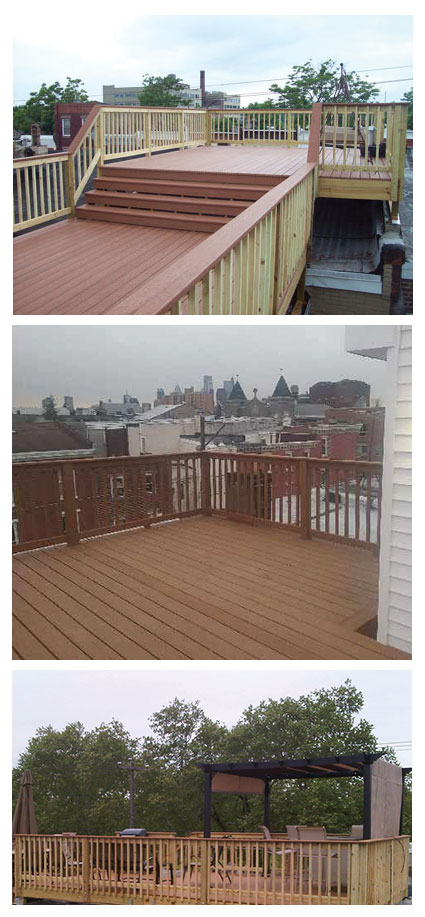 Rooftop decks offer that birds-eye view you just can't get from a standard deck, gazebo or pergola. A rooftop deck can even help lower your monthly heating or cooling bills with the added insulation they bring to your roof.
We have many clients in Philly that want a rooftop deck for both the view of the skyline and the option of raised garden beds, or additional storage. They are also a great place to grill or entertain friends and family.
If you are looking to build a deck over a flat roof we can offer options like a "floating" deck which is not secured in place as a stand-alone structure. They are merely "placed" on top of the structure.
Other options include are proprietary pedestal systems offering very stable, level and serviceable deck over a roof membrane.
We work to make sure you have the best design for both functionality and aesthetics. Our deck construction focuses on proper waterproofing and the look and feel you want to improve both the appearance of your home as well as improved value.
As with our standard ground level and raised deck building, we can offer wooden decks out of pressure-treated pine, red cedar, mahogany or other hardwoods. Rooftop deck construction often features composite decking to take advantage of the exciting environmental benefits and their minimal maintenance demands.
Composite decking materials like MoistureShield, Trex, and TimberTech, are created from up to 90% pre-and-post-consumer recycled material, requiring no staining, sealing, or painting. These composites will not rot or warp from water or sunlight.
Please see our recent blog post on planning in the winter for your summer rooftop deck entertaining.
Now is the time to explore the options for your dream deck, give us a call at 610-519-0245 today!