Roof Decks: Another Story for the City
Groundhogs aside, the coming of spring is marked for us by people calling for new roof decks.
Roof decks are possibly the easiest, least expensive, and most rewarding way that urban dwellers can increase their private living space without the trauma of building a large addition or the aggravation of relocating.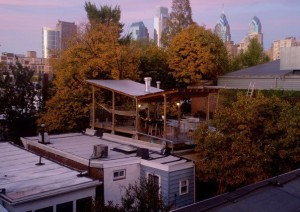 One of my favorite projects was a roof deck we did in the Fitler Square neighborhood of Philadelphia. The client is a designer for an architecture firm, and he had been creating plans and drawings for his home's pièce de résistance for several years before we embarked on the project. Its features include a galvanized steel spiral staircase, a corrugated tin roof, granite countertop, working sink and extendable body sprayer to cool off, a barbecue pit with exhaust hood, hard-wired lights, and electrical outlets throughout. We even installed a galvanized steel bucket on a pulley system to easily raise ice, food, and beverages from the first-floor kitchen.
We've employed the same structural approach on a half-dozen or so roof decks since then. We remove the existing tar and roofing on the shared "party" masonry walls on either side of house, upon which we form and pour new concrete caps. These footings support the pressure-treated 2×10 joists for the deck. This approach allows the deck to span from masonry wall to masonry wall, with absolutely nothing touching or potentially harming the existing roof below. Also, the weight limit upon the deck is virtually limitless; the deck is framed exactly as the floors within the house.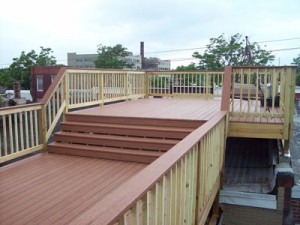 Except in very rare occasions, the gradual slope of city roofs can result in a cool design element. Rather than a single level deck starting a foot or so off the roof on one end, and ending three or four feet in the air on the other, we build bi-level decks. In the end, the two levels result in a more attractive and sophisticated look than just a single deck anyway.
I don't think we've used pressure-treated wood as decking on an unenclosed space since I've been with the company. The new composite decking products on the market are simply too affordable, environmentally friendly, and maintenance-free to consider any other option. And there are new, more attractive lines coming out every day; while we have used the popular Trex and ChoiceDek carried at the large home stores, we like the natural appearance and color choices of brands such as MoistureShield, TimberTech, and others. These decks are created from up to 90% pre-and-post-consumer recycled material and require no sealing, staining, or painting and will not rot or warp from water or sunlight. MoistureShield Decking, for example, contains an average of 289 plastic grocery sacks or 92 plastic water jugs per 12-foot board.
Nothing sings spring to me like the sound of a cool breeze over city rooftops, children laughing in playgrounds below, and the buzz of a circular saw that only we can hear. Seems like most folks enjoy their new rooftop deck more than they originally thought they would
Learn more about our deck and patio services and view more of our portfolio.