Sustainable Rooftop Decks & Gardens in Cities.
Why More Cities Are Interested in Building Sustainable Rooftop Decks & Gardens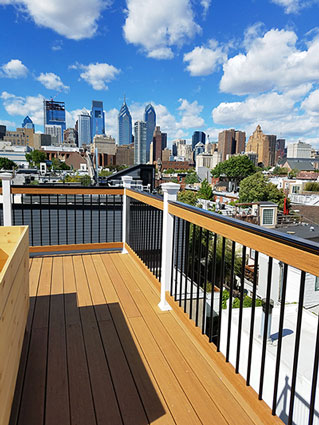 As the populations grows in urban areas, there has been more talk and effort into building sustainable rooftop decks and attractive gardens on top of city structures.
There are many reasons why this building trend is becoming incredibly popular in urban highly populated cities all over the world today.
These building projects help to conserve energy by shading the building naturally, can improve city storm water management efforts and will otherwise counteract the many negative effects of urban development in cities all around the globe.
The History of Using Rooftop Gardens & Top-Level Building Platforms
Many people are surprised to learn that these innovative new rooftop decks are really nothing new at all. For centuries, man has made use of the top of their dwelling structures to expand their living space and for adding beautiful aesthetics to their ancient cities by way of rooftop gardens.
Perhaps the most well-known example, King Nebuchadnezzar II built his beloved wife the spectacular Hanging Gardens of Babylon back in 500 B.C. in what is now known as Iraq to remind his wife of her missed homeland terrain. This gorgeous rooftop garden draped with lush plant life and exotic flora is now considered one of the seven wonders of the civilized world.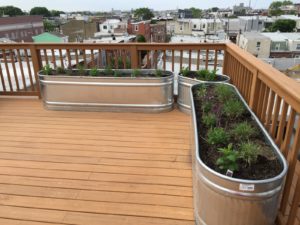 Top Benefits of Building Sustainable Rooftop Gardens & Decks Today
Even though ancient civilizations have routinely built rooftop platforms to provide extra dwelling and gardening space, this process is considered cutting-edge in urban building and construction circles today.
There are some impressive studies that indicate many practical benefits of building sustainable rooftop decks and gardens over top of urban apartment complexes, office buildings and other city structures.

Some of the top benefits of building eco-friendly rooftop decks and/or gardens include: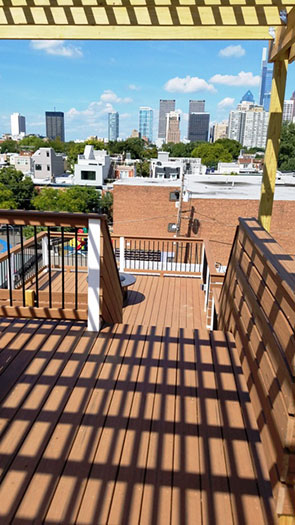 Slows Storm Water Runoff for Better Storm Water Management
Naturally Shades & Protects Hot City Rooftops
Can Lower Overall Building Energy Costs
Adds Substantial Beauty & Improves Urban Building Aesthetics
Promotes Relaxation & Socialization in City Neighborhoods
Extends Living & Entertainment Spaces Upwards
Improves Water & Air Quality
Has Positive Environmental Impact – Provides Food & Shelter for Nearby Birds & Other Wildlife
Can Be Used to Grow Food, Herbs or Flowers and Other Garden Bounties
Can Reduce Noise from Urban Streets
Helps Sequester Carbon, Reduces Pollution While Effectively Increasing Biodiversity in Urban Settings
Aids in Mitigating Commonplace Urban Heat Island Effect
Extends Lifetime of Roofing Materials & Structures
Provides Many Health & Well-Being Benefits
Can Raise Property Building Values
How City Property Owners Can Build an Earth-Friendly Rooftop Deck
Many city property owners become interested in installing an earth-friendly rooftop deck and/or rooftop garden after they read about them or experience seeing these top-level decks up close and personal. While these enticing benefits tend to encourage the desire for these building projects, actually performing the work involved can be dangerous for inexperienced individuals to do on their own.
If a property owner living in the city wants to research how to build these rooftop spaces, they should figure in needing specially crafted scaffolding and winch systems to enable safer work platforms for construction crews that need to work at higher levels to complete this type of job.
Advantages of Hiring a Professional Rooftop Deck/Garden Contractor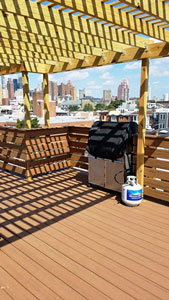 There are many terrific advantages of hiring a professional rooftop deck and/or rooftop garden construction company experienced in these sorts of novel green building improvement projects within an urban area. Aside from the obvious fact that working at these heights is dangerous, the prospective peril potential grows even higher when heavy construction tools and supplies are involved.
A professional construction company that specializes in creating these gorgeous and practical rooftop environments will have the required training, knowledge and hands-on skill background to get the work completed in a safe and timely manner. There are countless city building codes and regulations that must be followed to a T, and professional rooftop decking contractors are very familiar with this part of the building process.
Other reasons to go with a seasoned rooftop deck/garden expert includes the shorter downtime needed, as these contractors will have a bevy of workers and the required equipment to properly and swiftly get the job done right the first time. This type of construction project requires a specialized knowledge and convenient availability of the necessary construction and safety gear, tools, equipment and other supplies.
Why Now is an Excellent Time to Consider Building a Rooftop Retreat
Most outside construction is done when the weather is warm and dry. However, the high demand for experienced and affordable building contractors able to do this form of work makes it imperative to consult with a local rooftop deck builder soon. These construction specialists are fast filling in their upcoming summer job schedules right now.
Choosing a Rooftop Deck/Garden Design, Materials & Bonus Amenities
There are so many wonderful options in design styles, material choices and bonus added amenities to choose from, and consumers should remember that they will need an accessible access point to reach their new rooftop oasis. It may be possible to use a top-floor closet space to access a stairway leading to the roof, or consumers can opt for an outside staircase to limit taking space away from the building's interior living spaces.
Some other important consumer choices include the type of decking material, the proper leveling platform, railing or fencing options and style of staircase or rooftop ladder that will meet current city safety and fire codes.
Every urban property owner should seriously consider building upwards. From a purely builder prospective, these innovative green rooftop decks are a frugal way to make good use of otherwise wasted living and entertaining square footage space. Sustainable rooftop decks and lovely gardens offer many useful benefits.