Kitchen Remodeling Tips & Trends: 2023
Whether you plan on entertaining more, spending more time at home working (and cooking), or just want to increase the appeal and value of your house; a kitchen remodel may be the key for many reasons.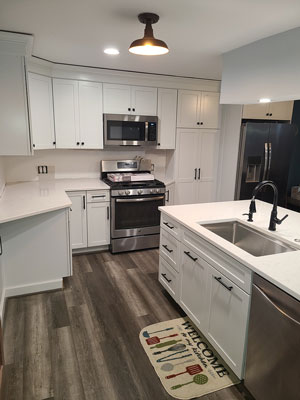 There are many custom solutions to improve the efficiency of your kitchen to meet the needs of you and your family. Integrating more energy efficient appliances with advanced (smart) technology, as well as green building materials and processes for improved health for your family and the global community.
Many houses in Havertown and in our surrounding communities were built prior to the 1950's when layouts and priorities in the kitchen were much different. Cumming Construction has helped many homeowners like yourself upgrade layouts and create warm, welcoming, and inviting kitchen spaces.
There are a couple different overall directions you can go with a kitchen remodel depending on whether you want to optimize your kitchen for your family's comfort and convenience, or if you want to maximize resale value and keep to more standard designs and layouts that will be popular with the largest number of future buyers. (Of course, we will work with you to put together the right combination of options that can also come somewhere between those two ends of the kitchen redesign spectrum)
When it comes time to design your kitchen, or other home remodel, many homeowners turn to the trendy looks on social media or home improvement TV shows for inspiration. Color, texture, material variance, like different types of flooring, backsplashes, and countertops lead the way in trends.
Let's focus now on 7 Top Tile and Style Trends for 2023…
Glossy not Matte
Since 2023 continues to keep surfaces and fixtures with a matte look the glossy tile backsplash adds a nice complementary look.
Classic Tiles Rule
Classic ceramic and porcelain tiles continue to provide timeless beauty to many kitchens in 2023 and beyond – great for resale value as well.
Mixed Material Mashups
The previous policy for backsplashes especially was that you only use one type of tile in one pattern. Now a unique look for your personality can include a combination of glass, marble, porcelain or other tiles is becoming more widely accepted.
Glass and Mosaic Tile Designs – Unique Shapes
Increasingly gaining in popularity are glass tiles, which have many bold and unique colors. Some even come with Mosaic options or that can be created with an artistic effect. Can be used for visual focal point for a great conversation starter at your next party or get together. May best be complemented with simple tile for larger spaces.
White or Natural Look
White tiles continue to be extremely popular in kitchen upgrades and remodels. Colors that have a very natural look are close behind in popularity with an overall trend in green tiles. (As a side note, maybe you want to include some Eagles green in your kitchen…as we write this article our Philadelphia Eagles are on the verge of getting to the Superbowl…fingers crossed. )
Texture and Stone Tiles
Stone tiles, textured, and three-dimensional tile (aka tactile tile) has also gained quite a bit of momentum for 2023. Stone tiles come with either a weathered or acid wash look and can add a bit of interest to plainer floors and countertops. Tactile tile can create visually dramatic walls without the use of wild colors or patterns, depending on your preferences.
Match Materials?
For many years homeowners have been choosing to use the same tile for both the kitchen floor and the backsplash. That was so 2022! Just kidding, sort of…The popular trend is to have a Matte hardwood floor and a marble look backsplash (using either marble or porcelain with marble design) that matches the countertop…making for a smooth and seamless transition from one part of the kitchen to the other.
In this article we shared tips and trends for the overall kitchen home remodeling industry, this does not mean you have to take any of these as gospel. Each kitchen we create at Cumming Construction is unique to meet the needs of our local clients. We are based in Havertown PA but serve the greater area including Philadelphia, Montgomery and Delaware Counties. We look forward to the opportunity to discuss your remodeling or home improvement needs in the near future. Please contact Jon Cumming at 610-519-0245 or by email at [email protected].